ACORN is terrorizing and ripping off Canadian taxpayers too.
I wrote about it in Canada Free Press.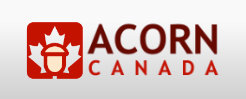 America needs to know that ACORN is restructuring in time to help re-elect President Obama in 2012. Obama used to work for ACORN and represented the group in court as its lawyer. These radical leftists who use the brutal, in-your-face, Machiavellian pressure tactics of Saul Alinsky want to destroy America as we know it and will use any means to do it.